FROGGY'S POPCORN TO OPEN FIRST RETAIL LOCATION ON BARRET AVENUE
November 23, 2022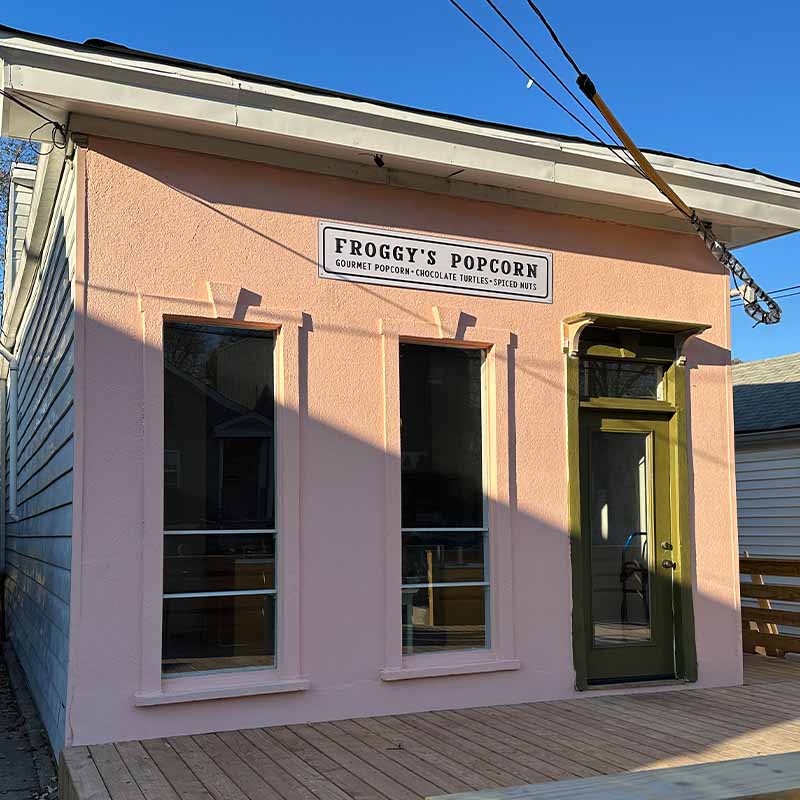 Entrepreneur and Louisvillian Melanie Fischer, aka Popcorn Mel, announced that she will open Froggy's Popcorn's first retail location at 974 Barret Avenue. The store will have its soft opening begins Friday, November 25 and will be open Thursday-Saturday 11am-7pm, and Sunday 11am - 4pm. Froggy's Popcorn will be open late for Bardstown Road aglow with free Movie Popcorn samples, and holiday 3D glasses while supplies last. A grand opening celebration will be planned on National Popcorn Day, January 19, 2023.
"What an honor to be a part of the shops on Barret Avenue in our first-ever retail location," says Fischer. "It has taken a team of many hands to get here, from friends, family, dedicated staff, support from the SBDC, the city of Louisville, Think Tank Marketing, our fellow small businesses, and most of all, our fantastic customers. I wholeheartedly thank you all. I am looking forward to the future of Froggy's Popcorn, sharing our treats, and making memories in our new space."
The shop will open on Nov. 25 with the following products:
Froggy's Sweet and Savory Gourmet Popcorn in 12 flavors, Froggy's Movie Popcorn, Bavarian cinnamon glazed almonds and pecans, milk chocolate caramel pecan turtles, dark chocolate salted caramel almond turtles, English toffee, peanut brittle, and wrapped soft caramels. Holiday Gift Baskets will also be available for purchase and special orders. 
Fischer started Froggy's Popcorn in 2018. The company sells small-batch, gourmet, large-kernel popcorn, along with assorted confections. Previously only available online or at Froggy's Mobile Snack Shack, customers can now visit Froggy's Retail location to browse and purchase their favorite flavors.
The idea for artisan craft popcorn took a while to form. She considered other products but it wasn't until a Kentucky Derby Party in 2017 that the initial idea popped into her head. "I always brought my Sweet and Spicy Caramel corn to share at parties. Over the years, my friends would always suggest I package and sell it, but I never really thought about it," Melanie explains. "I guess there's something to be said about the right place and right time. When my good friend told me I should sell my Sweet and Spicy corn, something clicked. I named the company after my cat Frog, and never looked back!"
Popcorn Mel quickly realized that one popcorn flavor would not make a successful business. People want a variety to keep them coming back for more. So Melanie discovered the joy of creating her own recipes—fueling her artistic creativity. She started to draw inspiration from Louisville as an emerging culinary destination. She then looked to food trends across the country, regional flavors, and wild suggestions from her friends and customers.
Many flavored popcorns start with a pre-processed flavor powder to coat the corn. Melanie knew she could do better by creating her flavor profiles from scratch. She starts with big, billowy, and fluffy mushroom popcorn. Then she adds the right combination of natural ingredients to develop melt-in-your mouth popcorn that snack lovers are sure to enjoy.